On the occasion of "World Naturopathy Week"
Free Medical Camp
Naturopathy is an alternative system of integrating holistic health in harmony with the constructive principles of nature on physical, mental, moral and spiritual planes of living. It has great health promotive, disease preventive and curative as well as restorative potential. Kaash Foundation aims to create a healthy and holistic individual for a healthy country and ultimately, the future.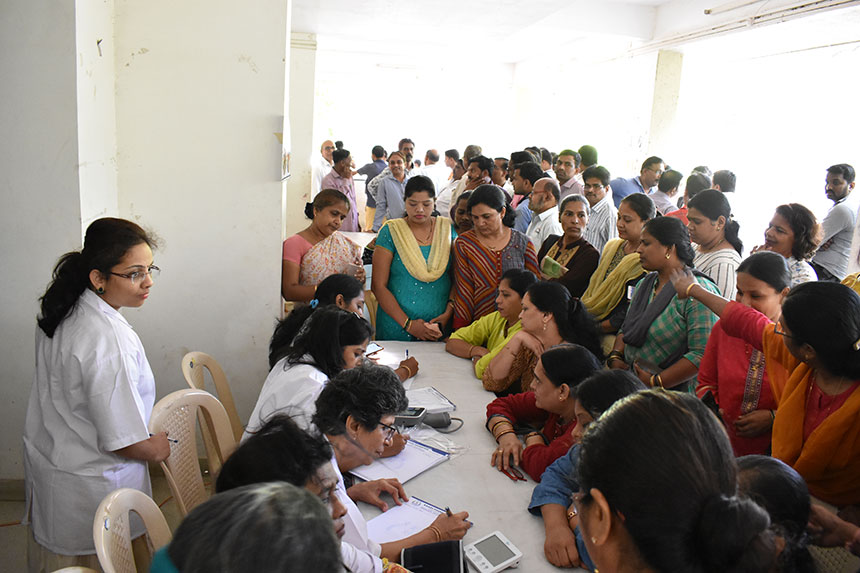 On the occasion of "World Naturopathy Week" (from November 12th – 18th 2019), Kaash Foundation organised a Free Medical Camp in association with The Ayush Ministry, Government of India, International Naturopathy Organization, New Delhi, Umasa, Munowa, and Mumbai Vidyapeeth Karmachaari Sangh, at the Marathi Bhasha Bhavan, University of Mumbai, Kalina.
This Free Medical camp was inaugurated by Dr. Vinod Patil, Director, Examinations and Evaluation, University of Mumbai, along with Retired Principal, Trustee and Founder member of Kaash Foundation, Mumbai, Mrs Vijayalakshmi Jadhav, Joint Director Dr. Renuka Vyas (Naturopath), and eminent academicians and staff of the Mumbai University.
Through this camp, the Foundation undertook a step in the Health vertical to create awareness and promote the non-allopathic treatment and healing process. During the camp, more than 350 participants from all over the city were benefitted through the alternate healing techniques like Naturopathy, Yoga, Acupressure, Sujok, Sound Meditation Healing, etc. Kaash Foundation perseveres to focus on imparting an enriching experience of medical attention, which was received by many in the camp.
The Health vertical of Kaash Foundation strongly believes in: 'A healthy mind dwells in a healthy body', which was firmly implemented through this camp.
The camp received an overwhelming response from the University as they declared a half day to enable each and every teaching and non-teaching staff to benefit from the camp. The pleasant sight of relief on the faces of the participants and the excellent doctors bore the testimonial significance of the camp. The camp primarily focused on obtaining relief from pain post treatment, exposure to various diet plans, salubrious living habits, development of healthy routine exercises, methods of overcoming anxiety, stress and pressure attacks. The camp broadened the outlook of the participants and encouraged them to try out different healing techniques.
Kaash Foundation extends a special vote of thanks to all the management and members of the Foundation and Mumbai University, who made this event a resounding success:
Hon. Vice Chancellor. Dr. Suhas. Pednekar, University of Mumbai.
Pro – Vice Chancellor. Dr. Kulkarni, University of Mumbai.
Jt. Director. Dr. Renuka Vyas, Kaash Foundation, Mumbai.
Technical Director. Prof. Subhash Kumar, Kaash Foundation, Mumbai.
Prof. Anil. Bankar, UMASA President.
The General Administration Department, Kalina, University of Mumbai.
The Management of Marathi Bhasha Bhavan.
Unions, associations, office bearers and University Senators who were part of this camp.
Dr. Balaji Kendre, Secretary, UMASA Teachers union.
President, MUNOWA Officers Association.
Shri Vinod Malale, Secretary, MUNOWA.
Shri Abhay Rane, President, Mumbai Vidyapeet Karmachari Sangh.
Shri Rupesh Malusare, Secretary.
Avinash Tambe from Mumbai University Shaikshanik Kalyankari Karmachari Sanghatna.
Krushna Paras, President, All India Adivasi Employees Federation Mumbai University Branch.
Senators, Dr Suresh Maind and Dr. Mrudul Nile.