Upcoming / Latest Event @Kaash
WEIGHT LOSS PROGRAM (A 30 DAY CHALLENGE)
'I have always believed; If you take care of your body, it will always take care of you.' ~ Ted Lindsay
Kaash Foundation's Kaash Swaasthya Manthan is launching a
WEIGHT LOSS PROGRAM (A 30 DAY CHALLENGE)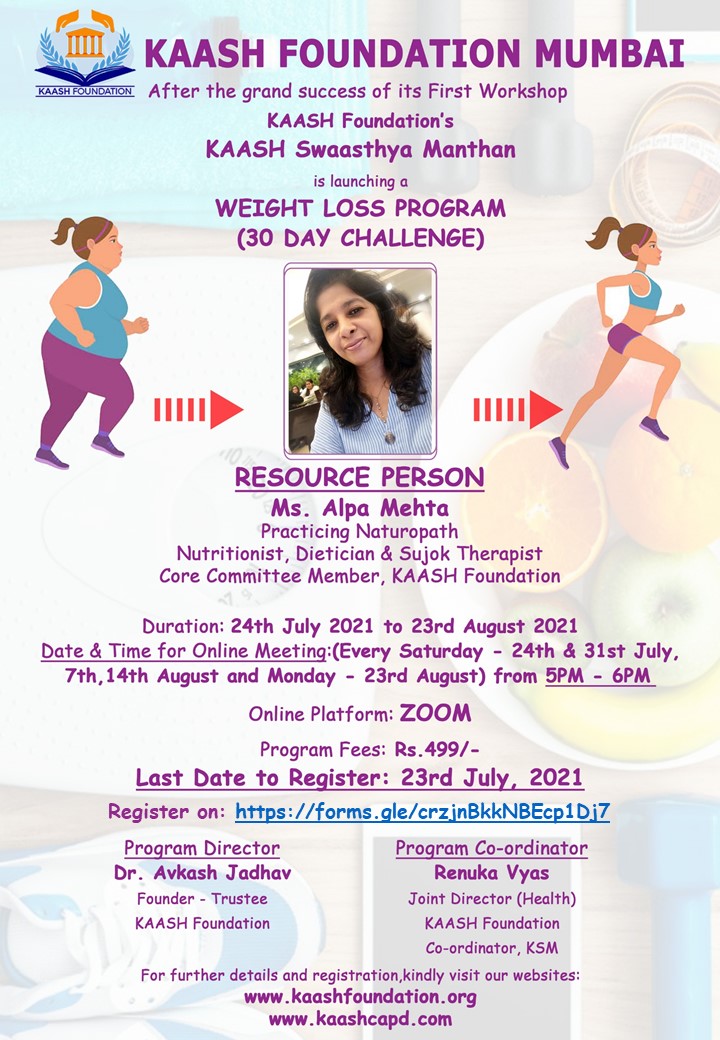 The program would be initiated by
Ms. Alpa Mehta
Practicing Naturopath
Nutritionist and Dietician
Sujok Therapist
The Weight Loss Program will be beneficial for those looking to shed off those extra fabs through a reliable, natural and a healthy diet plan!
Duration: 24th July 2021 to 23 Aug 2021
Dates and Time for the Online Meetings: Every Saturday (24th and 31st July; 7th and 14th Aug.) from 5 PM – 6 PM
Online Platform: Zoom cloud
Program Fee: Rs. 499
(The fee could be paid through Gpay or Bank Account, the details for which are mentioned in the registration link)
Registration Link:
https://forms.gle/crzjnBkkNBEcp1Dj7
Last Date to Register: 23rd July 2021
How will it work?
There will be a New Diet Every Week.
These diet plans won't require any expensive ingredients.
There won't be any repetitions throughout the month.
Every diet plan will span for a week  (starting from Mondays) with a new plan for the subsequent week to be shared two days prior (on Saturdays) through an online meet on Zoom cloud. This will give you enough time to make all the necessary arrangements.
An Orientation Meeting for the Registered Participants will be held on 24th July (Saturday) from 5 PM to 6 PM. on Zoom cloud. The meeting will acquaint you with the process of this program and you will receive the First Diet Chart (starting from 24th July) of the program.
The Fourth and the last diet plan will be shared on 14th August (Saturday) during an online meet on Zoom cloud from 5 PM – 6 PM
The last meeting will be on the last day, i.e. 23rd Aug (Monday) from 5PM – 6PM on Zoom cloud to celebrate your success!
Diet Plans will be shared only during the meetings (to be held every Saturday) and on the WhatsApp Group, especially made for the registered participants. NO personal calls will be entertained.
Indigenous Rights are those, which relate to Indigenous People, their way of life, their land and their resources. They are connected in nature and the birthrights of Indigenous People.'
~ Joni Madraiwiwi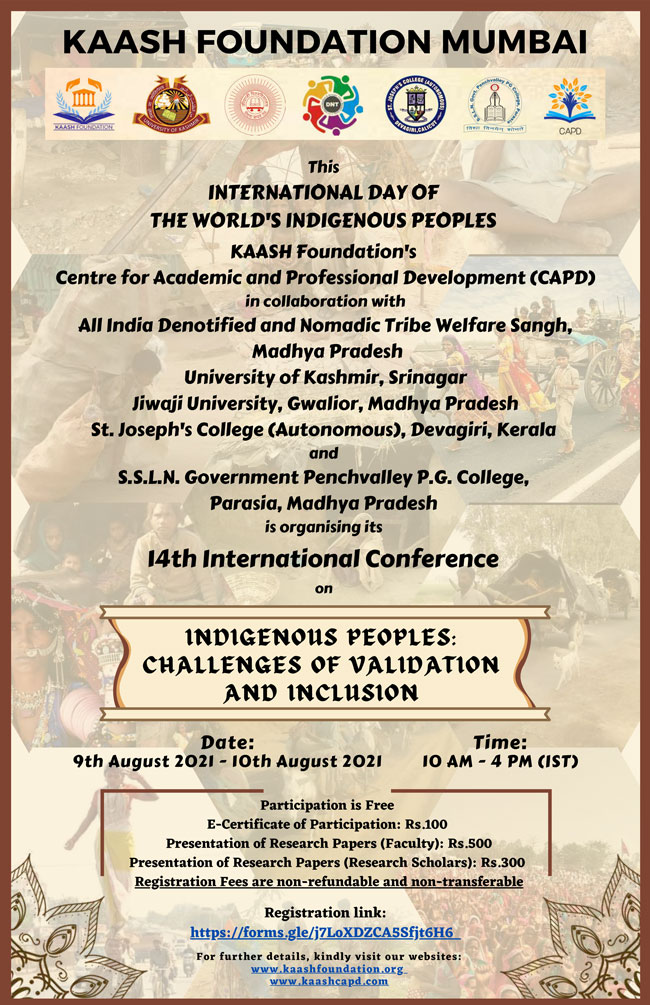 This
INTERNATIONAL DAY OF THE WORLD'S INDIGENOUS PEOPLES
KAASH Foundation's
Centre for Academic and Professional Development (CAPD)
in collaboration with
All India Denotified and Nomadic Tribe Welfare Sangh
University of Kashmir, Srinagar
Jiwaji University, Gwalior, Madhya Pradesh
St. Joseph's College (Autonomous), Devagiri, Kerala
and
S.S.L.N. Government Penchvalley P.G. College, Parasia, Madhya Pradesh
is organising its
14th International Conference on
INDIGENOUS PEOPLES: CHALLENGES OF VALIDATION AND INCLUSION
Date: 9th August 2021 – 10th August 2021
Time: 10 AM – 4 PM
Participation is Free.
Kindly submit your Abstracts by: 8 Aug 2021
Kindly mail your Abstracts on:themeindigenouspeoples@gmail.com
Registration Link: https://forms.gle/j7LoXDZCA5Sfjt6H6
The event will be Live Streaming on Kaash Foundation YouTube Channel.
Kindly subscribe
KAASH Foundation is an NGO in Mumbai, registered on 3rd October 2019, under the Bombay Trust Act of 1950. This Foundation is the brain child of Dr. Avkash Jadhav who believed that unless we, the citizens, come forward and work towards the upliftment of our country and countrymen, we will not be able to lift our nation into that heaven of freedom as dreamt by our leaders.
The aim of KAASH Foundation is
to amalgamate and centralize social work on a universal platform. It acknowledges that there are various critical issues in our society that needs immediate attention and works towards finding ways to solve problems rather than questioning why they are not being done.
Our Pan-India Reach: 28 Indian States and 5 Union Territories
Our Affiliations: 8 International and 24 National Collaborators
Our Global Reach: 38+ Countries across 4 Continents
We received participants from 370+ Universities, 120 Institutes, 1170+ Colleges and 60+ Schools
We welcomed 5700+ Registrations, 160+ Resource Persons and 250+ Presentations of Research Papers
We have organised 10 International Symposiums and Conferences, 03 International Faculty Development Programs, 01 Free Naturopathy Camp, 17 Health Webinars, COVID 19 Relief Activities, 01 International World Heritage Week, 01 Model UNESCO Youth Summit and 01 Quiz Competition on SAARC Countries
Kaash Foundation's YouTube Channel has raked in 31600+ Viewership, has rolled in live for 150 hours+ and has hit 2350+ Subscribers
YouTube Rating: ⭐⭐⭐⭐⭐
Kaash Foundation's Centre for Academic and Professional Development under its Heritage Vertical celebrated the World Heritage Week from 19th November 2020 to 25th November 2020.