Don't just celebrate, act as well!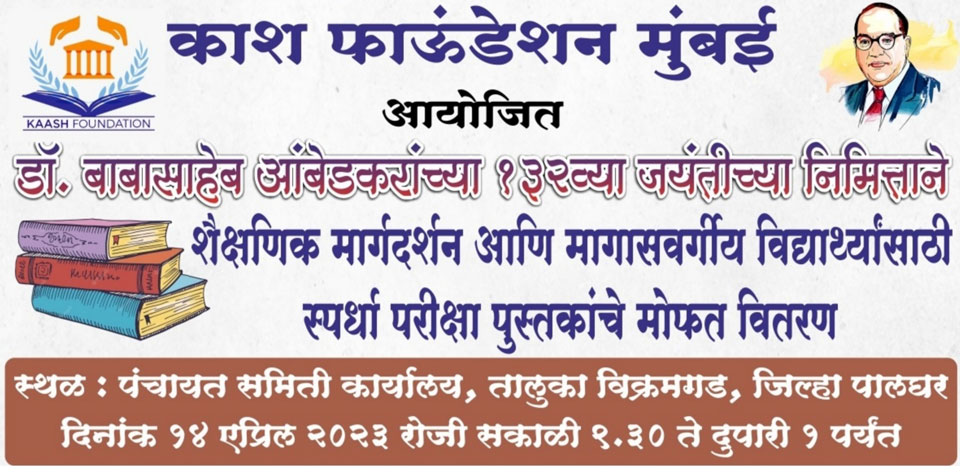 This Ambedkar Jayanti, going by Dr. Babasaheb Ambedkar's principle of educating the marginalized
We at KAASH Foundation have decided to do our bit for the SC/ST students of Vikramgad by printing over 500 educational books for them. These books will enable them, especially the girls, to prepare and qualify for the scholarship exams.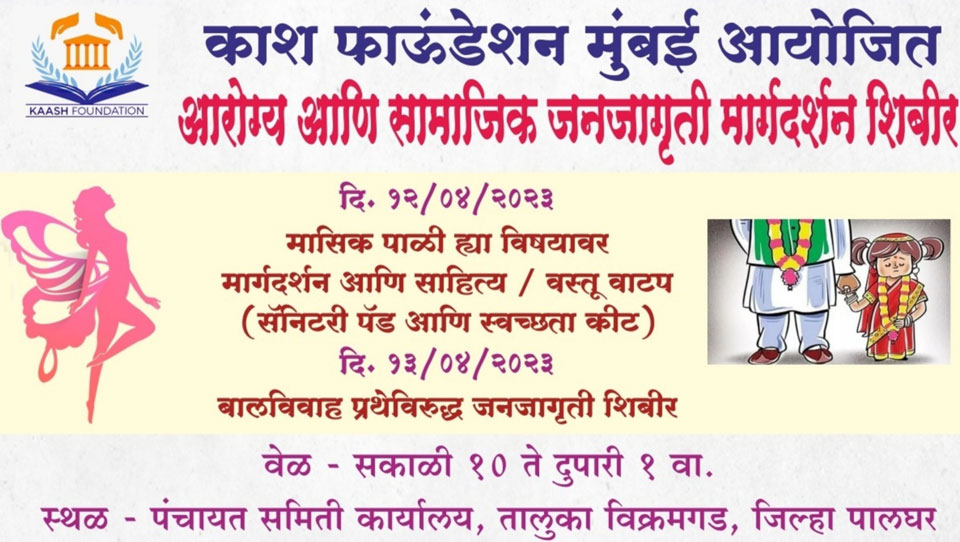 Under its Rural and Tribal Community Outreach Program, KAASH Foundation has been working in Vikramgad since May 2021 to curb malnutrition in women and girls.
We have conducted several health camps and distributed clothes, nutritional packets, sweaters and fruits over time.
These 500 books will be distributed to the students on 14th April 2023 at Vikramgad, Palghar District, Maharashtra with the hope that they are able to read and learn.
This is also our attempt to promote education for the girl child.
Our Requirements is 5000 books.
We are also conducting Special Awareness Programs on 12th and 13th April 2023 for the girl children on
Hygiene awareness and Menstruation Cycle
Disadvantages of Child marriage ( As the girls in the region get married at the age of 13-15 yrs)
We will be distributing
Sanitary napkins. 600 packets
100 Dettol packs with refill. Total 200 pieces. Plus 100 refill packs for the Anganwadi schools
6 packets of Orange biscuits . 60 packets to small children.
360 packets bourbon biscuits. Three boxes of 120 packets each to small children.
300 Dettol soap packs and 300 Napkins to the young girls.
You can contribute to this cause by assisting us in the printing of minimum two books or more and by encouraging others as well through sharing this message
Bank Details:
Name of Account Holder: Kaash Foundation

Name of Bank: State Bank of India

Account Number: 38977110614

IFSC Code: SBIN0000551

Branch Details: Borivali West Branch (00551)
Bank Link: https://www.onlinesbi.com/sbicollect/icollecthome.htm?corpID=1560563
Google Pay: +91 98336 29379
All the Donors will get a Certified Receipt of their payments as per 80G and 12A of the Income Tax Department. If the Donors request for 80G certificate we will be glad to give it.
Come, let's celebrate this Ambedkar Jayanti by giving a gift of learning and walking the path that Dr. Ambedkar always envisioned.
In case of any queries, you can contact us on: kaashfoundation@gmail.com
Program Coordinator: Prof. Avkash Jadhav